Roy R. Pachecano, AIA
Research Affiliate, Urban Design Lab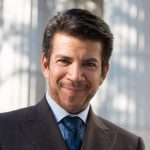 Roy Pachecano is an entrepreneur, a developer, and an innovator. He is the founder of Portico R.E.I. LLC ("Portico").
As a hands-on developer, he represents prominent clients
in providing advisory services such as the MTA, Deutsche Bank PWM, and Tudor City.
In 2012 Portico became nationally recognized for a project that became the first historic landmark in the United States to earn USGBC's LEED-Platinum designation in St Antonio, Texas. The designation recognized its significant scientific feat and innovative design. Prior to establishing Portico, Mr. Pachecano was Director of the Design Consulting Department at the Law Offices of LePatner & Associates in New York. Representative clients such as The Cooper Union, Barnard College/Columbia University, and Goldman Sachs were engaged to mitigate risk and add value to portfolios. Prior to his employment in the legal industry, he worked at Kohn Pedersen Fox (KPF) assisting in the design of skyscrapers around the world (Shanghai, Buenos Aires, Tokyo). In 2012, he assisted with the development of a 10MW solar farm in Somerset, Texas, bringing together key stakeholders.
On the side, Mr. Pachecano enjoys teaching (Harvard, Pratt Institute, Columbia
University). At Pratt, he incubated original course-work on zoning/land use, sustainable development, and energy monetization, which has given rise to a unique pedagogy that frames theory vs. practice. He is often a guest lecturer at Princeton University, NJIT, University of Texas, UTSA, Cornell, Texas A&M and Harvard. In 2017, Mr. Pachecano created Portico Productions, a non-profit organization devoted to producing film on relevant architectural topics: Zoning, Its Impact on Architecture, Real Estate and the Community, The Urban Developer. He also enjoys watercolors, cycling, and spending time with his family.
B.S., Texas A&M University, Environmental Design; M.Arch., M.S.RED, Columbia University Graduate School of Architecture, Planning, and Preservation