3 Densification Modes: Delhi, Kisumu and Medellin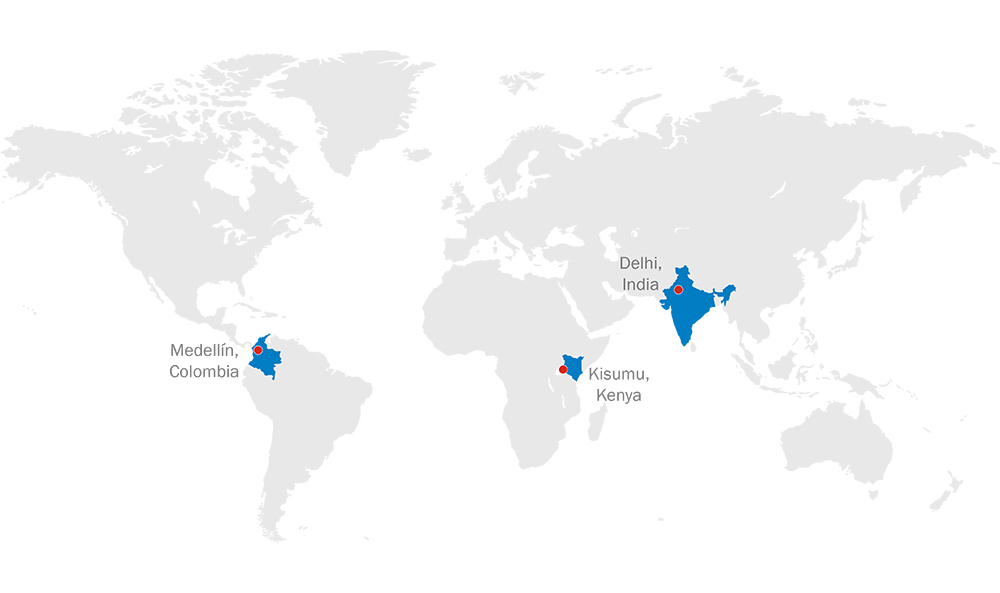 The subject of this studio is a comparative urban dialogue between New Delhi, India, Kisumu, Kenya, and Medellín, Colombia. Like dynamic cities everywhere, they have shared concerns about the form of expansion and the consequent mandates for compact growth. This dialogue is of particular interest given the diversity of character and context of each within the broad context of development in the "Global South".
The New Delhi mandate involves densification of the Edwin Lutyens' plan for the original colonial city, considered an international landmark in early 20th century urban design. In question is the evolution of this culturally significant and highly formalized hallmark from its ceremonial significance as new capital of India to expanded meaning as center of a new commercial metropolis.
The Kisumu mandate also entails urban densification, but with sharply contrasting origins, as its formal characteristics evolve out of the commercial functionalism of an early 20th century port city. In question there is the upgrading of areas along a rapidly growing growth corridor within municipal resource constraints.
Finally, the Medellín mandate entails densification of the "informal sector" on the periphery within the context of a city recently transformed by new political will and substantial investment. In question is the next phase of development for a city that has become an international textbook case in innovative urban design initiatives and projects.
For each of the three cities, detailed study sites have been carefully chosen as particular "fragments" that will serve as windows through which to view the larger question of their respective development modes, and to comparatively explore "saturation" levels of density within their respective urban contexts.
Urban Design Studio III Spring 2014
Critics: Richard Plunz (Director), Victor Body-Lawson, Viren Brahmbhatt, Michael Conard, Juan Esteban Correa Elejalde, Petra Kempf, Geeta Mehta, Kate Orff
More about this Studio at MSAUD 2014