Pier 26, New York: The Climatarium of To-morrow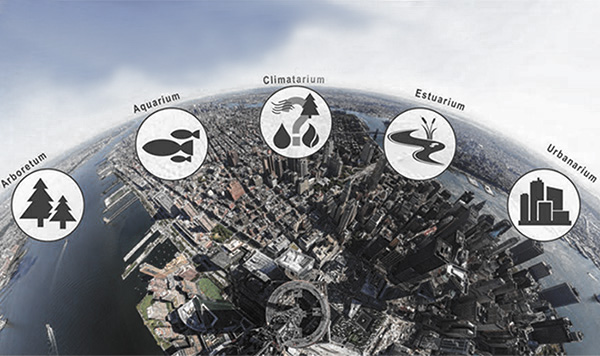 CLIMATARIUM (n.). A public hall comprising devices for presenting global and localized interrelationships between climate and society; and for simulation of future effects on same; for purpose of furthering scientific understanding, public instruction, and measures for climate resilience.
NB: for New York City comprising variants on estuarium and urbanarium concepts as relates to climate change.
Analyzing the hard facts and conventions of science for its time, science fiction has always envisioned the role of society in relation to what could remain of what we know as Earth. In The Drowned World (1962), J.G. Ballard imagines a post-apocalyptic and unrecognizable London. The Sea and the Summer (1988), by George Turner, seeks to understand the dynamic forces of climate change, unemployment due to exponential automation, the dissolution of Melbourne's monetary system, and a division of society segregated by the rich and poor. More contemporarily, The Day After Tomorrow (2004), a film directed by Roland Emmerich, depicts the global cooling and dawns on the era of a new ice age and, in certain depictions, New York City is shown covered in snow up to the torch height of the Statue of Liberty. In short, many of these novels and cinematic films may be understood as a manifesto to the urgency for consideration of social and environmental issues within the metropole. How can we design for a city that relies heavily on the foresight of what is to be expected in the future? For instance, in response to global warming, the melting of snow and ice has increased the global mean seal level, flagging cities to revisit their waterfront guidelines.
In October 2012, Hurricane Sandy reminded New Yorkers' of the impacts of climate related disasters, expedited the city's Special Initiative for Rebuilding and Recovery (SIRR), and resulted in fund allocation, both Federal and State agencies, to establish programs like Rebuild By Design, New York Rising, and the Science and Resilience Institute in Jamaica Bay.
The Climatarium studio framework encourages a critical investigation and reinterpretation of climatic forces in densely urban cities; and the increasing roles of data, mobility, and access as facilitators of sustainable urban form and lifestyle. The studio offers flexibility in the various lenses through which participants can examine the challenges of sustainable urbanization. The specificities of the studio site will be used as a foundation for developing design proposals that can address climatic challenges faced internationally in posttraumatic-urban typologies in need of improved resilience.
Clients and Collaborators
Hudson River Park Trust
New York Department of Environmental Conservation (NYSDEC)
New York Department of State (NYSDOS)
Earth Institute Lamont Doherty Earth Observatory
Urban Ecology Studio Fall 2014
Critics: Richard Plunz, Patricia Culligan, Kevin Lê