New Designs for the Bronx River Watershed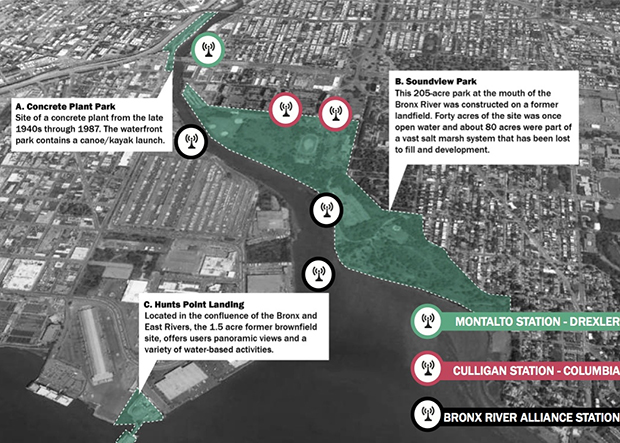 Sustainable Urbanization: New Designs for the Future City is a course designed for high school students and college freshmen interested in the field of sustainable development. During the three week course, the students encounter emerging trends in urban sustainability in the context of an interdisciplinary workshop environment where they explore new solutions for sustainable cities.
Project work is guided by researchers from the Urban Design Lab and teaching assistants from the Sustainable Engineering Graduate Scholars Program (SEGUE) at the Fu Foundation School of Engineering and Applied Science (SEAS).
In 2014, this workshop undertook to study several sites along the mouth of Bronx River, which empties into the East River, an important tidal strait connecting the Long Island Sound to Upper New York Bay. The sites of study included Hunts Point Landing, Concrete Plant Park, Soundview Park, and its adjacent communities. Working with a local client, the Bronx River Alliance, major urban design themes explored waterfront development, sustainable infrastructural systems, design for sea level rise and climate change, and the search for design interventions that address marginality in the city.
Instructors: Robert Brackett, Priscila Coli, Patricia Culligan, Vanessa Espaillat, Kirk Finkel and Richard Plunz
Teaching Assistants: Nour Awad, Robert Calderon, Henri Dwyer, Liubov Melnikova, Akindele Ogunbodede, Oscar Ortiz, Meridel Phillips, Odanis Rosario and Diane Ye
Program Coordinator: Maria-Paola Sutto