Spent Nature – Restoration Economy in Oak Point, South Bronx.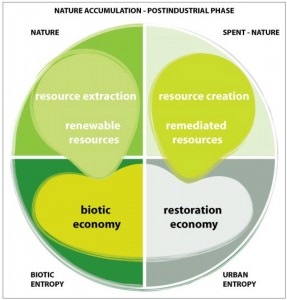 This project is a design studio coordinated with the Urban Design Lab and conducted by Columbia's schools of architecture and engineering working in collaboration with Sustainable South Bronx (SSBx), a community-based organization. The studio explores the redevelopment of the Oak Point industrial waterfront in the Hunts Point neighborhood of the South Bronx, one of the largest undeveloped parcels of land in New York City.
The studio is based on a proposal created by SSBx and Green Worker Cooperatives, organizations proposing the creation of an eco-industrial park on the site – rather than a jail, as proposed by the city, or a power plant, as proposed by the property owner. The park would include an industrial recycling facility that would collect reusable building construction materials, such as scrap metal, glass, and plastics that normally get sent to a landfill.
The studio explores the issue of a new generation of industry in New York City related to the transformation from a biotic-based economy to a restoration-based economy, and the movement from renewable to remediated resources. This investigation was coordinated with the goals of the PlaNYC 2030 as developed by the Mayor's Office of Long-Term Planning and Sustainability.
Urban Ecology Studio Fall 2007
Critics:  Richard Plunz, Patricia Culligan, Dimitris Vlachopoulos, Philip Simmons