C.L.I.M.B (City Life is Moving Movies), 155th Street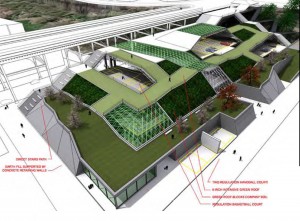 The C.L.I.M.B. Project is a Northern Manhattan community-based initiative founded on the belief that safe parks and neighborhoods are essential to community health, and that all communities, regardless of socioeconomic background, are entitled to access to safe parks and neighborhoods. The purpose of the project is to combat the problems of gang violence, drugs, obesity, sedentary lifestyles, and displacement by engaging residents and organizations in creating a sense of neighborhood and park ownership.
At the core of the C.L.I.M.B. project is the creation of a multi-use urban hiking trail to link the escarpment parks of northern Manhattan – Highbridge Park, Jackie Robinson Park, St. Nicholas Park, Morningside Park, and northern Central Park. In addition to physically stringing these parks together, the concept proposes linking organizations, institutions, and residents in the vicinity of the parks to create and strengthen programming and services. This project is a design studio class coordinated with the Urban Design Lab and conducted by Columbia's schools of architecture, engineering, and public health.
Urban Ecology Studio Fall 2006
Critics:  Richard Plunz, Patricia Culligan, Mindy Fullilove, Lourdes Hernandez-Cordero, Dimitris Vlachopoulos, Philip Simmons