GoGreen East Harlem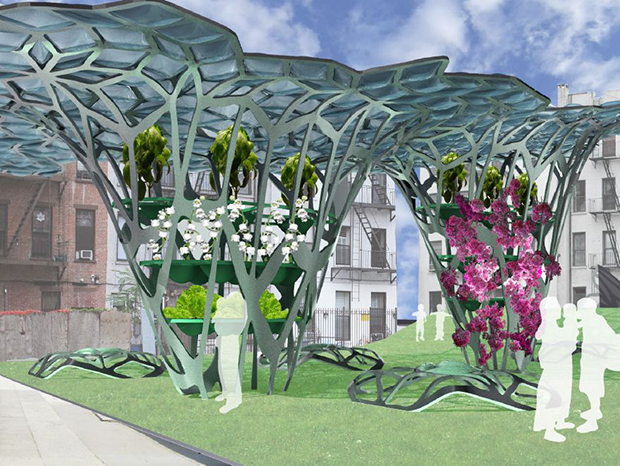 The specific focus of the studio is food security and the potential for urban agriculture in an evolving neighborhood in New York City, which is presently seeking innovative methods to reverse decades of environmental degradation. The studio analyzes the options for agricultural production in the urban context, exploring practical applications of concepts such as "vertical farming," "green/blue roofs," and "edible schoolyards", and drawing connections between food security and economic development, including relating to jobs and job-training, childhood and continuing education, and health services delivery.
This project is the fourth joint studio that the Urban Design Lab coordinated with the Graduate School of Architecture, Planning and Preservation (GSAPP) and the Senior Civil and Environmental Engineering Design Seminar at the Fu Foundation School of Engineering and Applied Science (SEAS). The Urban Design Lab methodology allows a closer look, bringing leaders and residents together to develop a plan for greening a neighborhood where environmental disparities have been acute.
East Harlem is known as Spanish Harlem, or "El Barrio", meaning "the neighborhood", and it houses the largest Latino population in New York City, built on a Puerto Ricans influx that started in the 1950s. Today, East Harlem is home to about 117,000 and constitutes a mix of Latinos from the Caribbean, Mexico, and Central and South America, as well as immigrants from West Africa.
Urban Ecology Studio Fall 2008
Critics:  Richard Plunz, Trish Culligan, Dimitrios Vlachopoulos